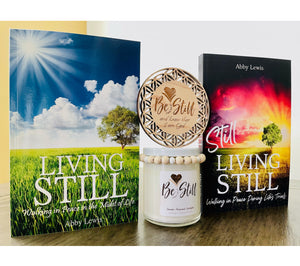 Includes both my books, candle and candle coaster to inspire a life of peace and stillness.
All natural, high quality, 6 oz., soy candle that is hand poured locally here in North Carolina —plus custom created wooden candle coaster.
Candle scent is a lovely blend of all natural, high quality lavender, peppermint, and eucalyptus.
GET YOUR AUTOGRAPH COPIES
Living Still AND Still Living Still
A person spoke this to me years ago in regards to the coaching I was giving her. She said, "I never knew there was a different way to live."
The beauty of what God has called me to do as an author and breakthrough life coach is summed up in that one sentence. I have the privilege of being used by God to share my story, in hopes it opens your eyes, heart and mind to a whole new way of living. It is called Living Still.
So what is Living Still? Living still is not adopting a life of inactivity or solitude; rather, it is choosing to live in tune with the voice of God in the midst of the inevitable noise around us. Living still is learning to rest in God's perfect love for us. It is taking the time to listen to His still, small voice with the expectation that He will lovingly guide us, one step at a time, toward freedom.
The practice of living still works. Learning to live this way delivered me from the pit and continues to transform my life and many others's each day. And, I am confident that living still can change your life too.